Due for publication in August 2011:

Cambridge IGCSE Computer Studies Coursebook with CD-ROM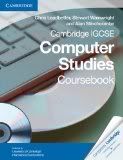 Written specifically for the Cambridge International Examinations IGCSE 2012 and 2013 syllabuses by experienced teachers and examiners of CIE syllabuses in IGCSE Computer Studies.




Uses CIE's new 'house style' for presenting program code and pseudocode.




Coursebook includes questions and tasks throughout to reinforce learning.




Accompanying CD-ROM provides practice activities for students.



Both coursebook and CD-ROM offer practical support for students, including for the new Paper 3: Alternative to coursework.